It's snowing in Pennsylvania today. Which means I have the day off. Which means I'm reading seed catalogs, planning my spring garden, and ignoring all other chores in the house because I'm too distracted with the dreams of my perfect 2019 garden.
You're probably familiar with the classic seed catalogs from Burpee, Gurney's, and Harris, but there's a whole world of catalogs out there that you NEED to investigate this year. I took the liberty of doing the heavy work for you, by calling in about 50 catalogs or so (which, to my wife's dismay, I actually do every year anyway). So, without further adieu, here are the 11 catalogs that you should check out this year… in addition to all the other ones that you like to browse! All of these are free.
*I've listed these in alphabetic order, not order of favorites.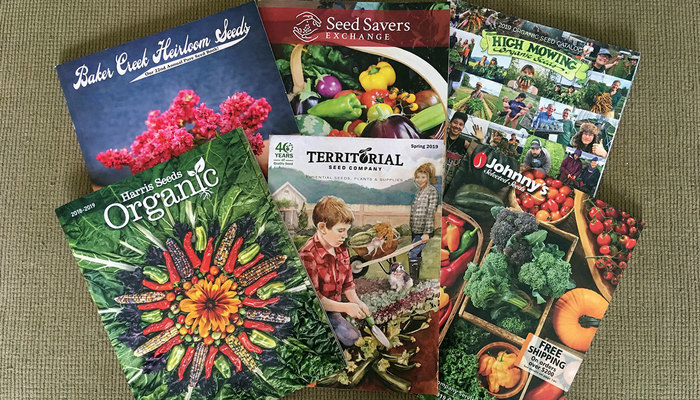 My 6 'Order-From-Every-Year' Catalogs
Baker Creek Heirloom Seeds
This catalog often has the most beautiful cover out of all seed catalogs. The 2019 catalog is no exception, with a stunning image of Takane Ruby Buckwheat on the cover. I don't plan on growing buckwheat anytime soon, but with an image like that, I'm swaying towards that direction.
148 pages of beautiful images for all of their varieties, this catalog is a favorite of casual and hardcore gardeners alike. Request a copy of the catalog on their website, or browse their digital catalog and articles. They also sell at premium $10 Whole Seed Catalog that features 350 pages of beautiful images covering seeds from over 100 countries. Totally worth it. Rareseeds.com
Harris Seeds Organic
Way back in 1879, Joseph Harris published his first seed catalog. 140 years later, they're still one of the best catalogs around. These days, they put out 4 catalogs: the Vegetable & Cut Flower Growers Catalog; the Ornamental Growers Catalog; the Organic catalog; and the Garden Trends catalog. The Harris Seeds Organic brand was started in 2016, and this year one of their initiatives was partnering with the Rodale Institute's ASC program. Harrisseeds.com
High Mowing Organic Seeds
More like "High Quality Organic Seeds," am I right? My best producing plants always seem to come from High Mowing, so it's no wonder they're one of the best seed companies out there. 100% certified organic, non-GMO project verified seeds, I've never once had a bad experience with plants grown from them. Highmowingseeds.com
Johnny's Selected Seeds
This catalog is on the list because they put so much information onto the pages. Pictures, physical descriptions, growing and harvesting guides, comparison charts, resistance guides, etc., etc. While I do wish they would up their organic and non-GMO variety percentage, the lack of varieties is overwhelmingly made up for with information. Johnnyseeds.com
Seed Savers Exchange
Seed Savers features heirloom, untreated, non-hybrid, non-GMO seeds, many of which are organic. Whenever I'm looking to grow a new variety of an old favorite, this is the catalog I reach for. If it wasn't for Seed Savers, I never would have experienced the amazingness that is Mexican Sour Gherkin cucumbers, Prizetaker leeks, or the Cream of Saskatchewan white watermelon. Seedsavers.org
Territorial Seed Company
In 1979, Territorial Seed Company was founded on the idea that there should be a results-based, trial-tested resource of professional-quality seed for both home gardeners and market growers. Each season, Territorial grows, evaluates, and scores approximately 2,000 different varieties in every class of vegetables, flowers, and herbs. These guys know what they're doing. TerritorialSeed.com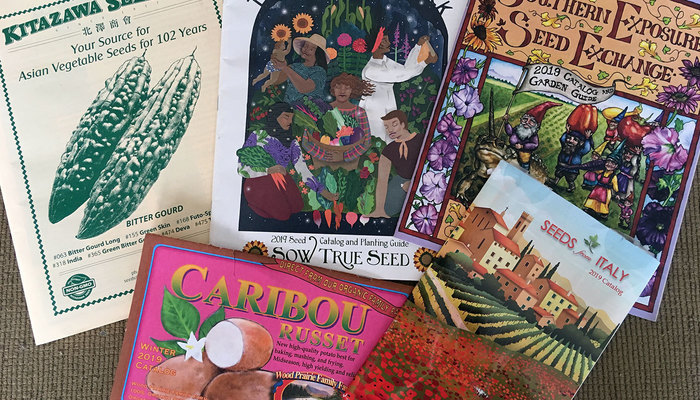 5 Unique Catalogs Worth Checking Out
Kitazawa Seed Co
I have a former coworker to thank for turning me on to this company. While not the most glamorous looking catalog, Kitazawa still uses their original 'manila-paper, green-ink' color scheme from 1917, when Japanese-American Gijiu Kitazawa started the company with his brother. Rife with non-GMO asian vegetables, this catalog has varieties that you've most likely never heard of, but if you're adventurous, you'll love them! If you're tempted, go for it. All seed packs are only $4 each. Kitazawaseed.com
Seeds from Italy
Seeds from Italy is the American distributor for Franchi Seeds, Italy's oldest family-owned seed company, founded in 1783. The vast majority of their varieties are heirlooms that have been passed down through Italian generations. Take a culinary journey to Italy… Mangia, Mangia! Growitalian.com
Southern Exposure Seed Exchange
This catalog always sits on the top of my pile… mostly because of the lawn gnomes that they constantly put on the cover, but the content is pretty awesome as well. There's a TON of varieties in this one, many of which are organic, but ALL of which thrive greatly in the southeastern US. Try the Virginia Heritage Seed Collection…even if you don't live in Virginia. 12 full seed packs for $25. Southernexposure.com
Sow True Seeds
Heirlooms, organics, GMO-free… Sow True has it all. It's a really nice catalog, with great pictures, great information, and a sustainability based mission statement. High-five, Sow True! Sowtrueseeds.com
Wood Prairie Family Farm
This is actually my favorite catalog on the entire list. Wood Prairie is an organic family farm on the edge of the north Maine woods. Their claim to fame? The best darn potatoes ever. Seriously, I get potatoes from these guys all the time, they have an amazing variety, and all of them grow prolifically. You want purple potatoes? Get them here. Try a variety pack, if you have the room. I recommend the Easter Egg collection, that comes complete with petite Blues, Reds, Yellows, Purples and Whites. Woodprairie.organic