Raleigh, NC – Touting the new shoe as the perfect combination of bright white colors and lawn mowing function; Lawn & Garden footwear brand Kujo Yardwear announced their plans on Monday to launch a new colorway of their popular Yard Work Shoe, specifically targeted to dads. "Market Research shows that the only thing dads like better than mowing their lawn is wearing white, comfy shoes", says Kujo Chief Marketing Officer, Kelsey Martin. She added, "Marketing a white, clunky sneaker designed for lawn mowing to dads is probably the easiest job I'll ever have".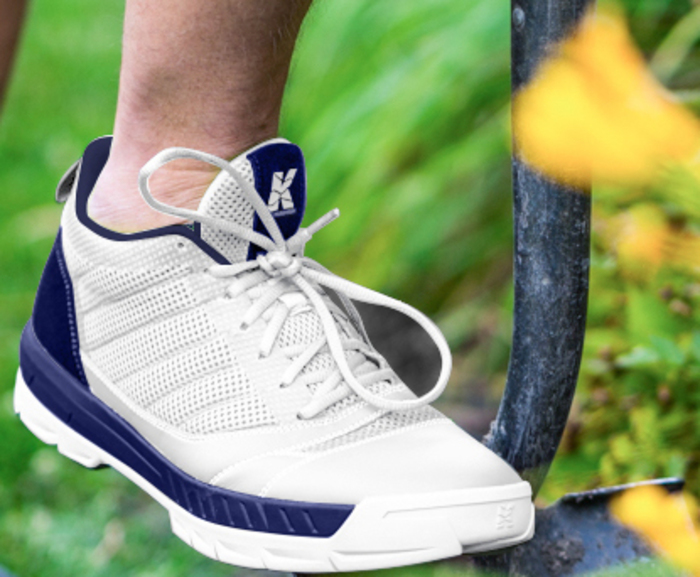 For years, New Balance has dominated the Dad-Shoe market, but that could change with the added lawn-mowing function from Kujo Yardwear. When hearing of the news, local dad Derek Cousino stopped grilling to say "So you're telling me that I can have lawn-mowing shoes that keep my feet dry in dewy grass, have a great grip, AND are bright white with thick soles? Giddy-up!" He couldn't help himself from ending with "…but I wouldn't buy anything with Velcro, it's a total ripoff."
"Will the shoes get extremely grass-stained after mowing? Yes. Is this a poor design idea? Sure. Will it be our best seller? Absolutely", predicts Kujo Yardwear CEO Shawn Langton. "This white colorway goes against all of our good instincts…but dads have spoken, and we're listening."
At Press Time Kujo Yardwear was planning their new line of Cargo Shorts.
The Kujo Dad Shoes are available for purchase here.